Sour Cherry Compote Descriptive Essay
Growing up, we had a sour cherry tree in the backyard. And I hated it. I hated it because it was cruel in a way that kids think they're intimately familiar with–shiny, perfect-looking thing dangled inches from your face that when you reach for, is totally disappointing, crushing even (because when you're a kid, it's all very dramatic).
Sour doesn't even aptly describe what these cherries taste like; they're more along the lines of "caustic" and "acerbic," especially if you're a kid. I never understood how something that looked like the very embodiment of cherry perfection–round, bright red marbles hanging from a tree–could taste so awful, but they did.
I don't think it was until I had moved to New York that I came across sour cherries in a format I wholly approved of: a sour cherry crumble bar. Unfortunately, it was very "unapproved" way–in a take-away box from some uppity coffee shop in my apartment refrigerator, and it belonged to my roommate. So I only had A Taste. (Don't ever live with me, people. I cannot be trusted.) Just a little evening off the side, and then a little more leveling so it looked better, and then pushed it so far back in the fridge I believe the roommate found it months later and didn't recognize it.
It was, in a word, amazing. And it had taken me 27 years to realize that sour cherries made the best kind of dessert. Of course, when I called my mother to say that I finally had the perfect plan for those sour cherries that mostly went to waste she told me that the tree? It died. And they'd had it removed. Like, years ago. And I was crushed.
So when Alex picked up the prettiest batch of sour cherries from the Greenmarket last month, I had great plans for them. But, as the days got busier, I realized I wouldn't have time to do anything grand with them, so I pitted and froze them and there they sat in the freezer for four weeks, taunting Alex. (Who, sour-lover that he is, found them to be as delicious as ice pops.)
With the summer almost gone and still lacking any interest in cooking things that take more than 20 minutes, I was feeling the pressure to use these guys up while they were still vaguely seasonal, when I remembered a recipe I'd seen for a compote that takes no time at all. In the week since, we've put it on everything from slices of angel food cake to my morning yogurt. I can only imagine how amazing it would be over ice cream or panna cotta or cheesecake or pancakes or or or… your spoon. Yes, that too.
Cherries, previously:Sweet Cherry Pie, Coconut Pinkcherry Yogurt and Cherry Cornmeal Upside-Down Cake
One year ago:Double Chocolate Torte
2/3 cup water
6 tablespoons sugar
3 tablespoons fresh lemon juice
1/2 vanilla bean, halved lengthwise
2 1/2 cups (1 pound) cherries, pitted
Combine water, sugar and lemon juice in heavy medium saucepan. Scrape seeds from vanilla bean into saucepan; add bean. Bring to boil over high heat, stirring until sugar dissolves. Boil until thin syrup forms, about 7 minutes. Reduce heat to medium; add cherries. Stir 1 minute. At this point, if you would like to keep your cherries whole and lovely as they are, stop cooking it and you're done. I ended up letting mine simmer about 5 minutes more, until the cherries were slightly more broken down, but quite far from a jam. Cool the compote, then cover and chill until cold.
Do ahead: Keeps in the fridge for at least a week.
As I drove to Monemvasia, I kept thinking about something my friend Katilena had said to me before I left Athens. Katilena has this wonderful British-Greek accent. When she speaks it's like listening to a young Judi Dench, if Dame Judi had spent years speaking a romance language like Greek. Her words are crisp and polished, with a soft guttural finish. Even when speaking in English, her Greek tongue can't help but roll every "r." So the words come out like smooth and lulling waves. It was in that unique, half-British, half-Greek voice, that she said to me:
"If you are going to Monemvasia, you mussst visit Kinsterna dahling! The estate and gardens are like the Garden of Eden. If one were to imagine the Garden of Eden, I think it would be a place like that; full of many varieties of fruit-bearing trees, air heavy with the fragrance of flowers and aromatic herbs. As a chef it is something you should see!"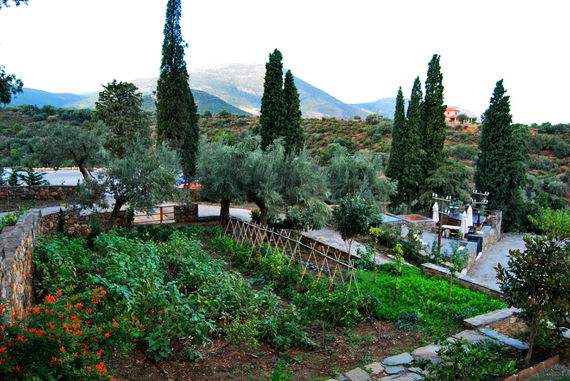 Now I hadn't spent much time imagining the Garden of Eden, but with that description (and a voice that could sell ice to Eskimos) I was suddenly convinced that I needed to rearrange my Monemvasia plans. This was something I had to see!
Now I don't want to cause a ruckus by ending my Monemvasia/Kinsterna story here, but I will be writing all day, and you reading all day, if I try to cram that adventure into one posting. So for now, let's stick to my story about the sour cherries they were harvesting, which became my inspiration for this 4th of July posting!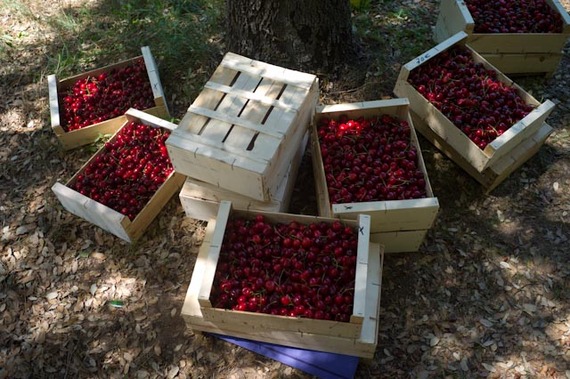 When I finally made the 4-hour drive from Athens to Kinsterna, there were crates of sour cherries waiting for me in the garden. They were freshly harvested, and just about to be turned into gluka tou koutaliou (spoon sweets). Sour cherry spoon sweet is arguably the most popular of all Greek spoon sweets. For those of you not familiar with spoon sweets, they're similar to a compote. When the trees are filled with bright red cherries, you know that summer in Greece has truly begun! Unfortunately, the season for sour cherries is much shorter than the regular cherry season. They typically are found in Greece only from May to July. Which I suspect is why Greeks (cleverly) began to jar and preserve all of the sour cherries they could get their hands on. So while most Americans might see sour cherries and immediately think of sour cherry pie, I see sour cherries and think of spoon sweets.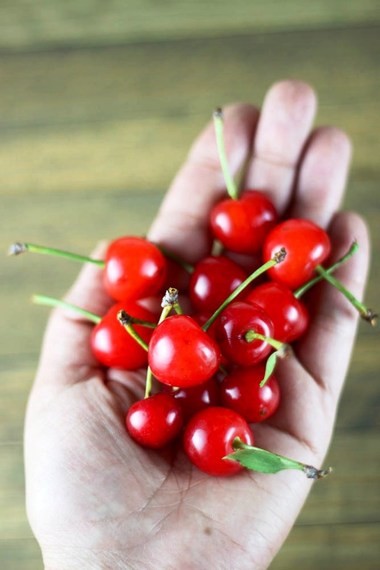 The chef was just beginning to pick through the cherries as I arrived. So naturally, I rolled up my sleeves and started helping. We washed the cherries, de-stemmed, and pitted them. Afterwards we layered the ruby red fruit (about 2 1/2 pounds per pot) into pots with sugar (2 1/2 pounds per pot), water (2 cups) and lemon juice (2 tablespoons). We then placed the cherries into the refrigerator for 6 hours. This allows the lemon juice to permeate the cherries. The acid helps preserve their plump texture and bright red color. Once the cherries "marinated," we cooked the mixture over low heat for about 30-45 minutes, until all the sugar dissolved and the juices turned into a thick syrup.
If you decide to make your own gluka tou koutaliou with cherries, be sure to skim the surface of the pot. This will remove any foam that has bubbled up to the surface while the cherries are cooking. Once the cherries were cooked and the syrup became thick, we placed the cherries into sterilized preserving jars. Another note, should you make this at home, the best way to get the cherries into the jars is by using a wide mouthed funnel (as pictured below).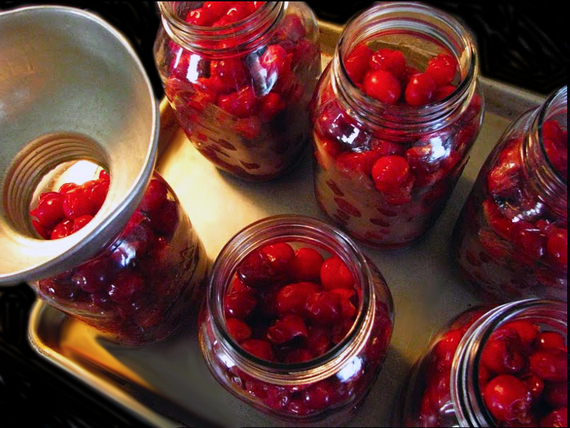 I find that using a funnel makes the process a lot less messy than using a ladle. Fill each jar up with the sour cherries, so that no more than a half inch of space is between the cherries and the lid. Seal the jars and allow them to stand at room temperature until cool. Store the cherries in your pantry for later use.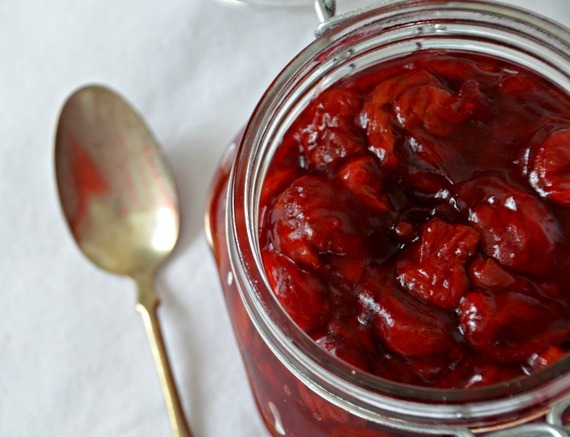 The chef kindly gave me several jars of the tart cherries to take home with me. This now brings me to their "later use," the 4th of July festivities that are taking place this week. I decided to share the fruits of my labor with friends and family during our weekend of Independence Day celebrations and barbecuing. I considered using the cherries in a cherry pie, a quintessential American dessert. But in the end, I settled on making a cheesecake. A cheesecake would certainly be more festive, with the stark white cheesecake and dollops of red cherries on top! So I settled on my recipe for goat cheese cheesecake (which is in my Sweet & Skinny cookbook). What could be a better dessert to serve with Greek sour cherry spoon sweets? It's the perfect dessert to combine my Greek, and my American, roots. Naturally, I had to taste test the combination ahead of time. I know, it's a difficult job. One cheesecake, and five full stomachs later, we've all agreed that it's going to be a crowd-pleaser!
For those of you who don't already have my cookbook... wait, why don't you already have my cookbook? What are you waiting for? Okay, we'll save that discussion for another day. Since we're all friends, I won't leave you in a last minute pinch. Here is my recipe for goat cheese cheesecake. If you don't plan on making your own sour cherry spoon sweets, I suggest you purchase a jar of sour cherries in syrup from a specialty foods store.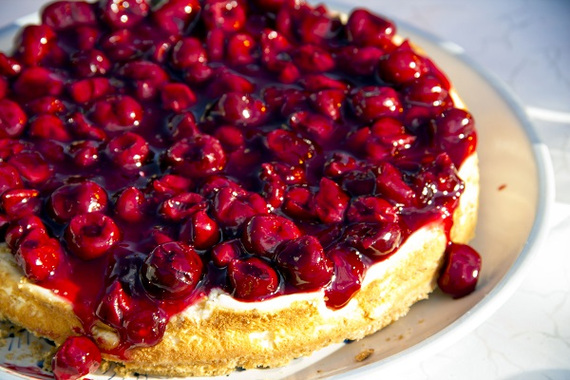 GOAT CHEESE CHEESECAKE WITH SOUR CHERRY SPOON SWEET
12 ounces reduced-fat cream cheese
1/2 cup sugar
5 1/2 ounces chevre (or other mild goat cheese)
1/3 cup low-fat buttermilk
1 large egg
2 egg whites from large eggs, at room temperature
1 1/2 cups sour cherry spoon sweet (to garnish)
1 Graham Cracker Crust (combine 6 ounces honey graham crackers, processed to fine crumbs in a food processor with 2 tablespoons of melted butter blend until they hold together when squeezed with your fist; press the crumbs firmly over bottom and slightly up sides of a 9-inch springform)
Using an electric mixer, beat the cream cheese and sugar on medium speed for 2 to 3 minutes, until mixture is smooth. (If using a standing mixer, use paddle attachment.) Add chevre and beat 2 to 3 minutes longer. Scrape down the sides of the bowl with a spatula. Add the buttermilk and egg. Beat on low speed for 1 minute, then on medium speed for 2 minutes longer.
In a clean medium bowl, using clean beaters, beat the egg whites on high speed for 1 to 2 minutes, until medium peaks form, curling over slightly when you lift the beaters. Gently fold the whites into the cheesecake mixture, just until combined. Spread the cheesecake batter evenly over the graham cracker crust.
Bake on a rack in the lower third of a preheated 325-degree oven 20 minutes. After 20 minutes, tent a piece of foil over the cheesecake and bake for another 20 to 25 minutes, until the cheesecake is set and no longer jiggles. Let it cool at room temperature for 1 hour. Refrigerate the cheesecake, loosely covered with plastic wrap, for at least another 2 hours or overnight.
To serve, remove the outer ring of the springform pan and transfer the cake, on its base, to a serving platter. Spoon the sour cherries on top of the cheesecake and serve. This recipe makes 12 servings.
Follow Marisa Churchill on Twitter: www.twitter.com/marisachurchill